Diving with Two Ocean Divers:
Scuba Courses:
Internationally recognised course –Padi (Introduction up to Dive Master)
Guided Wreck & Reef Dives:
Atlantic: Clifton Beach, Bakoven Beach, Sandy Cove, Geldkis Rocks, Justin's Cave, Antipolis, Coral Gardens, Romelia
False Bay: Long Beach, Windmill Beach, A-frame, Castle Rock, Sunny Cove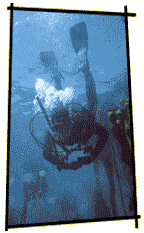 Boat Dives:
Atlantic: North Paw, South Paw, Oakburn, Mauri, Aster, Katzamraru,Vulcun's Rock
False Bay: Roman Rock, Outer Castle Rocks, S.A.S. Pietermaritzburg, Partridge Point, Smitswinkel Bay
Great White Shark Dives:
Dive in cage and come fact to face with the King of the Ocean – a once in a lifetime experience
Aquarium Predator Dives:
Dive with raggies, spotted gullies, rays, turtles and game fish. (Dive regardless of weather – warm water)
Seal Island Charters:
Snorkel and dive the the seals (no experience necessary)
Deep Sea Fishing:
Experience fishing 40 miles off shore for Cape Game Fish such as Long and Yellow Fin Tunny
Equipment Sales:
Top brands such as U.S. Divers, Sherwood, Mares, Uwatec and more
Gear Hire/ Equipment Service/ Air Filling Station.